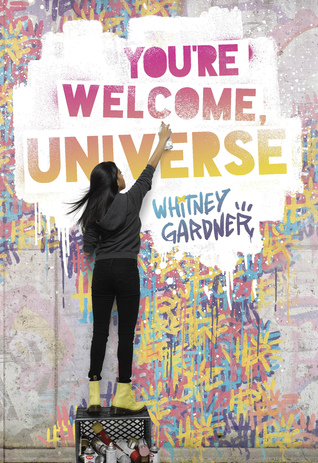 Favourite quotes:
"My old art teacher told me I draw like a man. I've never forgiven him. I don't draw like anything, I draw like everything. I draw like me".
"I'm a fingerprint, an anomaly, a snowflake. Indian, Deaf, girl, two moms. You couldn't make this shit fit in the pages of those glossy mags".
"My life has to be about more than the Refresh button. <…> I want to make art that makes my heart race. Art that demands to be felt, even if that feeling is terror".
Julia is an artist and like all artists, she wants her art to have an impact. That is why she painted over a slur about her best friend scribbled on school property. Sadly, said friend snitches and Julia is expelled from Kingston School for the Deaf and has to transfer to a regular public school. Her two moms impose more boundaries on her life than ever. Life isn't easy when you're sixteen, and it's even harder when you're a brown deaf girl who needs an ASL interpreter with her at all times. Especially if that interpreter is one nosy woman.
On top of all that, the art class that Julia wants to be so badly in is full. So since her moms pretty much put a stop to her graffiti activities, she has few opportunities to draw. Julia is a smart girl, though, and quickly figures out a way. She tags landmarks all over town with her signature – "HERE". However, she's not the only notorious graffiti artist in town. Someone else is making additions to her work and while they look amazing and provocative, Julia has no desire to be involved in some kind of a "turf war". She just wants to make amazing art. So who is the other "vandal" in town? Is it Julia's former crush and coworker Donovan? The charismatic art teacher? Or someone else entirely, like her new clueless friend YP? Can Julia figure it out and not get arrested for vandalism in the process?
Guys, I have a confession to make.
I'm twenty-five years old. And this seems to be the year where I finally feel too "old" for YA books. Not all YA books, obviously – I'm never gonna be too old for Harry Potter, for instance. But lately, I just seem to rush through young adult novels and find myself unable to care for teenage characters as much as I used to, even a year ago.
Despite that, I definitely recommend "You're Welcome, Universe"! Julia is a deaf Indian girl living with two mothers, which is not something you see often in young adult fiction. She is not very "likeable" – the betrayal of her supposed best friend makes her driven to isolate herself from people in the new school, she has an attitude and she's spunky. In other words, she feels real. The author has really fleshed out her character, and not least because of the absolutely amazing illustrations of Julia's art that are featured in almost every chapter. I haven't really read anything like that before (with the exception of Cat Winters' books), and I loved it.
I also loved the novel's approach towards ASL (American Sign Language). I don't know it unfortunately (although I know the alphabet of British Sign Language – not the same thing!), but "You're Welcome, Universe" definitely made me interested. Julia's new friend YP is trying to learn it too, and I felt that it was really important that the author has shown how people communicate in ASL – both through text and illustrations of the novel. At one point, Julia describes ASL to a useless adult – "English is my second language. I speak American Sign Language. It's not English. It's not charades, not miming. It's a language". Smashing misconceptions like Julia does in that scene is the best reason for YA literature to be gaining momentum as it currently is.
Books like "You're Welcome, Universe" are important, not least BECAUSE they're marketed towards younger audience. When young people read, they want to relate to the characters – they want to see themselves in them. And if all protagonsits are the same straight white able-bodied men, it's hard for people who don't fit into that mold (such as myself) to relate to them. Julia's story feels real; since I'm not deaf, I cannot presume what people like her go through every day, but according to acknowledgments, the author has employed sensitivity readers to make Julia's experiences as truthful as possible. I can only hope that more authors follow Gardner's example!
I'm certainly going to read more of Whitney Gardner's books! My rating for "You're Welcome, Universe" is 7/10.
Recommendations:
You might like "You're Welcome, Universe" if you liked:
"Of Pens and Swords" by Rena Rocford;
"#famous" by Jilly Gagnon;
"It Started with Goodbye" by Christina June
Have you read "You're Welcome, Universe"? What are your favourite books released so far this year? Let me know in the comments:)
Thanks for reading this review and don't forget to check out my Etsy charity shop before you go!