Friday Finds is originally featured at Should Be Reading and showcases the books I have discovered during the weeks and added to my Goodreads TBR. In the weeks of October 1st-22nd, I've discovered the following books and added them to my Goodreads TBR:
Contemporary
"The Inexplicable Logic of My Life" by Benjamin Alire Saenz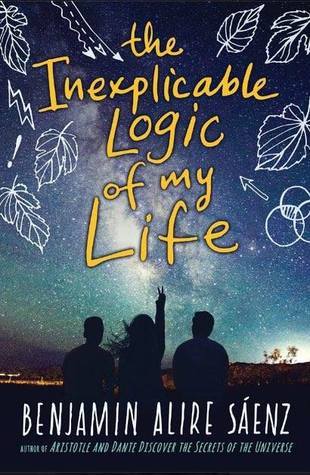 Sal used to know his place with his adoptive gay father, their loving Mexican-American family, and his best friend, Samantha. But it's senior year, and suddenly Sal is throwing punches, questioning everything, and realizing he no longer knows himself. If Sal's not who he thought he was, who is he? This humor-infused, warmly humane look at universal questions of belonging is a triumph.
"The Sudden Appearance of Hope" by Claire North (like any book by the author of Matthew Swift isn't going straight on my TBR list)
My name is Hope Arden, and you won't know who I am. We've met before – a thousand times. I am the girl the world forgets.
It started when I was sixteen years old. A slow declining, an isolation, one piece at a time.
A father forgetting to drive me to school. A mother setting the table for three, not four. A teacher who forgets to chase my missing homework. A friend who looks at me and sees a stranger.
No matter what I do, the words I say, the people I hurt, the crimes I commit – you will never remember who I am.
That makes my life difficult. It also makes me dangerous…
THE SUDDEN APPEARANCE OF HOPE is the tale of a girl no one remembers, yet her story will stay with you forever
"Cat's Eye" by Margaret Atwood
"Cat's Eye" is the story of Elaine Risley, a controversial painter who returns to Toronto, the city of her youth, for a retrospective of her art. Engulfed by vivid images of the past, she reminisces about a trio of girls who initiated her into the fierce politics of childhood and its secret world of friendship, longing, and betrayal. Elaine must come to terms with her own identity as a daughter, a lover, and artist, and woman – but above all she must seek release from her haunting memories. Disturbing, hilarious, and compassionate, "Cat's Eye, " is a breathtaking novel of a woman grappling with the tangled knots of her life.
Historical
"The Girl from Venice" by Martin Cruz Smith
Venice, 1945. The war may be waning, but the city known as La Serenissima is still occupied and the people of Italy fear the power of the Third Reich. One night, under a canopy of stars, a fisherman named Cenzo comes across a young woman's body floating in the lagoon and soon discovers that she is still alive and in trouble.

Born to a wealthy Jewish family, Giulia is on the run from the SS. Cenzo chooses to protect Giulia rather than hand her over to the Nazis. This act of kindness leads them into the world of Partisans, random executions, the arts of forgery and high explosives, Mussolini's broken promises, the black market and gold, and, everywhere, the enigmatic maze of the Venice Lagoon.
"Dark Matter" by Michelle Paver
January 1937. Clouds of war are gathering over a fogbound London. Twenty-eight year old Jack is poor, lonely, and desperate to change his life, so when he's offered the chance to join an Arctic expedition, he jumps at it. Spirits are high as the ship leaves Norway: five men and eight huskies, crossing the Barents Sea by the light of the midnight sun. At last they reach the remote, uninhabited bay where they will camp for the next year, Gruhuken, but the Arctic summer is brief. As night returns to claim the land, Jack feels a creeping unease. One by one, his companions are forced to leave. He faces a stark choice: stay or go. Soon he will see the last of the sun, as the polar night engulfs the camp in months of darkness. Soon he will reach the point of no return–when the sea will freeze, making escape impossible. Gruhuken is not uninhabited. Jack is not alone. Something walks there in the dark…
"Eileen" by Ottessa Moshfegh
The Christmas season offers little cheer for Eileen Dunlop, an unassuming yet disturbed young woman trapped between her role as her alcoholic father's caretaker in a home whose squalor is the talk of the neighborhood and a day job as a secretary at the boys' prison, filled with its own quotidian horrors. Consumed by resentment and self-loathing, Eileen tempers her dreary days with perverse fantasies and dreams of escaping to the big city. In the meantime, she fills her nights and weekends with shoplifting, stalking a buff prison guard named Randy, and cleaning up her increasingly deranged father's messes. When the bright, beautiful, and cheery Rebecca Saint John arrives on the scene as the new counselor at Moorehead, Eileen is enchanted and proves unable to resist what appears at first to be a miraculously budding friendship. In a Hitchcockian twist, her affection for Rebecca ultimately pulls her into complicity in a crime that surpasses her wildest imaginings.

Played out against the snowy landscape of coastal New England in the days leading up to Christmas, young Eileen's story is told from the gimlet-eyed perspective of the now much older narrator. Creepy, mesmerizing, and sublimely funny, in the tradition of Shirley Jackson and early Vladimir Nabokov, this powerful debut novel enthralls and shocks, and introduces one of the most original new voices in contemporary literature.
Retellings
"Vassa in the Night" by Sarah Porter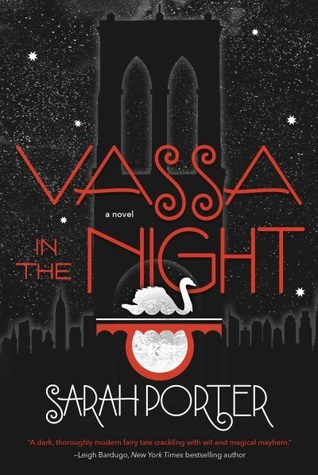 In the enchanted kingdom of Brooklyn, the fashionable people put on cute shoes, go to parties in warehouses, drink on rooftops at sunset, and tell themselves they've arrived. A whole lot of Brooklyn is like that now—but not Vassa's working-class neighborhood.

In Vassa's neighborhood, where she lives with her stepmother and bickering stepsisters, one might stumble onto magic, but stumbling out again could become an issue. Babs Yagg, the owner of the local convenience store, has a policy of beheading shoplifters—and sometimes innocent shoppers as well. So when Vassa's stepsister sends her out for light bulbs in the middle of night, she knows it could easily become a suicide mission.

But Vassa has a bit of luck hidden in her pocket, a gift from her dead mother. Erg is a tough-talking wooden doll with sticky fingers, a bottomless stomach, and a ferocious cunning. With Erg's help, Vassa just might be able to break the witch's curse and free her Brooklyn neighborhood. But Babs won't be playing fair…
"Dorianna" by Catherine Stine
Internet followers, beauty, power. It all sounded good.

Until it transformed into a terrifying reality Dorianna couldn't stop.

Dorianna is a dark twist for the Internet generation on A Picture of Dorian Gray.

When her father is jailed, her mother ships lonely, plain Dorianna to her aunt's. There, Dorianna yearns to build a new identity, but the popular Lacey bullies her—mostly for getting attention from her ex, Ander.

Ander takes Dorianna to Coney Island where Wilson, a videographer, creates a stunning compilation of her. She dreams of being an online sensation, as she's never even had a birthday party, and vows she'd give anything to go viral. Wilson claims he's the Prince of Darkness and warns her the pledge has downsides.

Dorianna thinks he's joking. She has no idea of how dire the consequences might be.
What are your Friday Finds this week? Have you read any of mine? I love your comments!