Friday Finds is originally featured at Should Be Reading and showcases the books I have discovered during the weeks and added to my Goodreads TBR. In the weeks of July 18th-August 5th, I've discovered the following books and added them to my Goodreads TBR:
Magic
"On the Other Side" by Carrie Hope Fletcher (a.k.a. Eponine!)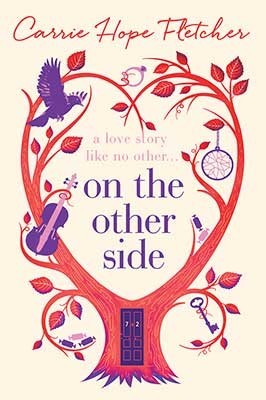 Evie Snow is eighty-two when she quietly passes away in her sleep, surrounded by her children and grandchildren. It's the way most people wish to leave the world but when Evie reaches the door of her own private heaven, she finds that she's become her twenty-seven-year-old self and the door won't open.

Evie's soul must be light enough to pass through so she needs to get rid of whatever is making her soul heavy. For Evie, this means unburdening herself of the three secrets that have weighed her down for over fifty years, so she must find a way to reveal them before it's too late. As Evie begins the journey of a lifetime, she learns more about life and love than she ever thought possible, and somehow , some way, she may also find her way back to her long lost love . . .
"Alphabet of Thorn" by Patricia McKillip
Deep inside a palace on the edge of the world, the orphan Nepenthe pores over books in the royal library, translating their languages and learning their secrets. Now sixteen, she knows little of the outside world—except for the documents that traders and travelers bring her to interpret.

Then, during the coronation of the new Queen of Raine, a young mage gives Nepenthe a book that has defied translation. Written in a language of thorns, it speaks to Nepenthe's soul—and becomes her secret obsession. And, as the words escape the brambles and reveal themselves, Nepenthe finds her destiny entwined with that of the young queen's. Sooner than she thinks, she will have to choose between the life she has led and the life she was born to lead…
"The Prestige" by Christopher Priest
In 1878, two young stage magicians clash in the dark during the course of a fraudulent séance. From this moment on, their lives become webs of deceit and revelation as they vie to outwit and expose one another.

Their rivalry will take them to the peaks of their careers, but with terrible consequences. In the course of pursuing each other's ruin, they will deploy all the deception their magicians' craft can command–the highest misdirection and the darkest science.

Blood will be spilled, but it will not be enough. In the end, their legacy will pass on for generations…to descendants who must, for their sanity's sake, untangle the puzzle left to them.
Mystery
"The Female of the Species" by Mindy McGinnis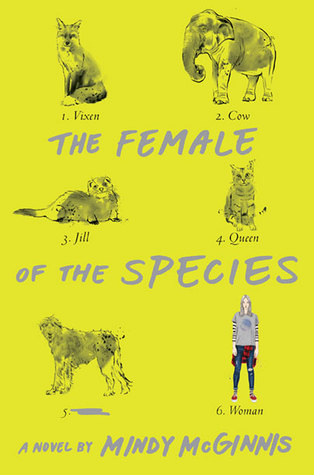 Alex Craft knows how to kill someone. And she doesn't feel bad about it. When her older sister, Anna, was murdered three years ago and the killer walked free, Alex uncaged the language she knows best. The language of violence.

While her crime goes unpunished, Alex knows she can't be trusted among other people, even in her small hometown. She relegates herself to the shadows, a girl who goes unseen in plain sight, unremarkable in the high school hallways.

Circumstances bring Alex, Jack, and Peekay together as their senior year unfolds. While partying one night, Alex's darker nature breaks out, setting the teens on a collision course that will change their lives forever.
"My Sister Rosa" by Justine Larbalestier
Seventeen-year-old Aussie Che Taylor loves his younger sister, Rosa. But he's also certain that she's a diagnosable psychopath—clinically, threateningly, dangerously. Recently Rosa has been making trouble, hurting things. Che is the only one who knows; he's the only one his sister trusts. Rosa is smart, talented, pretty, and very good at hiding what she is and the violence she's capable of.

Their parents, whose business takes the family from place to place, brush off the warning signs as Rosa's "acting out." Now that they have moved again—from Bangkok to New York City—their new hometown provides far too many opportunities for Rosa to play her increasingly complex and disturbing games. Alone, Che must balance his desire to protect Rosa from the world with the desperate need to protect the world from her.
Urban Fantasy
"Indexing" by Seanan McGuire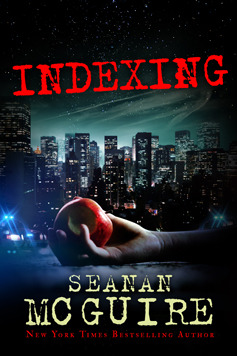 For most people, the story of their lives is just that: the accumulation of time, encounters, and actions into a cohesive whole. But for an unfortunate few, that day-to-day existence is affected—perhaps infected is a better word—by memetic incursion: where fairy tale narratives become reality, often with disastrous results.

That's where the ATI Management Bureau steps in, an organization tasked with protecting the world from fairy tales, even while most of their agents are struggling to keep their own fantastic archetypes from taking over their lives. When you're dealing with storybook narratives in the real world, it doesn't matter if you're Snow White, Sleeping Beauty, or the Wicked Queen: no one gets a happily ever after.
Non-fiction
"Girl Up" by Laura Bates
They told you you need to be thin and beautiful.

They told you to wear longer skirts, avoid going out late at night and move in groups – never accept drinks from a stranger, and wear shoes you can run in more easily than heels.

They told you to wear just enough make-up to look presentable but not enough to be a slut; to dress to flatter your apple, pear, hourglass figure, but not to be too tarty.

They warned you that if you try to be strong, or take control, you'll be shrill, bossy, a ballbreaker. Of course it's fine for the boys, but you should know your place.

They told you 'that's not for girls' – 'take it as a compliment' – 'don't rock the boat' – 'that'll go straight to your hips'.

They told you 'beauty is on the inside', but you knew they didn't really mean it.

Well I'm here to tell you something different.
What are your latest Friday Finds? Have you read any of mine? Send me your recommendations! 🙂