Friday Finds is originally featured at Should Be Reading and showcases the books I have discovered during the week and added to my Goodreads TBR. In the week of January 15th-22nd, I've discovered the following books and added them to my Goodreads TBR:
Fantasy
"Traitor's Blade" by Sebastien de Castell
Falcio is the first Cantor of the Greatcoats. Trained in the fighting arts and the laws of Tristia, the Greatcoats are travelling Magisters upholding King's Law. They are heroes. Or at least they were, until they stood aside while the Dukes took the kingdom, and impaled their King's head on a spike.

Now Tristia is on the verge of collapse and the barbarians are sniffing at the borders. The Dukes bring chaos to the land, while the Greatcoats are scattered far and wide, reviled as traitors, their legendary coats in tatters.

All they have left are the promises they made to King Paelis, to carry out one final mission. But if they have any hope of fulfilling the King's dream, the divided Greatcoats must reunite, or they will also have to stand aside as they watch their world burn…
Historical Fiction
"Honey Girl" by Lisa Freeman
The year is 1972. Fifteen-year-old Haunani "Nani" Grace Nuuhiwa is transplanted from her home in Hawaii to Santa Monica, California after her father's fatal heart attack. Now the proverbial fish-out-of-water, Nani struggles to adjust to her new life with her alcoholic white (haole) mother and the lineup of mean girls who rule State Beach.

Following "The Rules"—an unspoken list of dos and don'ts—Nani makes contact with Rox, the leader of the lineup. Through a harrowing series of initiations, Nani not only gets accepted into the lineup, she gains the attention of surf god, Nigel McBride. But maintaining stardom is harder than achieving it. Nani is keeping several secrets that, if revealed, could ruin everything she's worked so hard to achieve. Secret #1: She's stolen her dad's ashes and hidden them from her mom. Secret #2: In order to get in with Rox and her crew, she spied on them and now knows far more than they could ever let her get away with. And most deadly of all, Secret #3: She likes girls, and may very well be in love with Rox.
"Girl Through Glass" by Sari Wilson
In the roiling summer of 1977, eleven-year-old Mira is an aspiring ballerina in the romantic, highly competitive world of New York City ballet. Enduring the mess of her parent's divorce, she finds escape in dance—the rigorous hours of practice, the exquisite beauty, the precision of movement, the obsessive perfectionism. Ballet offers her control, power, and the promise of glory. It also introduces her to forty-seven-year-old Maurice DuPont, a reclusive, charismatic balletomane who becomes her mentor.

Over the course of three years, Mira is accepted into the prestigious School of American Ballet run by the legendary George Balanchine, and eventually becomes one of "Mr. B's girls"—a dancer of rare talent chosen for greatness. As she ascends higher in the ballet world, her relationship with Maurice intensifies, touching dark places within herself and sparking unexpected desires that will upend both their lives.

In the present day, Kate, a professor of dance at a Midwestern college, embarks on a risky affair with a student that threatens to obliterate her career and capsizes the new life she has painstakingly created for her reinvented self. When she receives a letter from a man she's long thought dead, Kate is hurled back into the dramas of a past she thought she had left behind.
Contemporary
"Ways to Disappear" by Idra Novey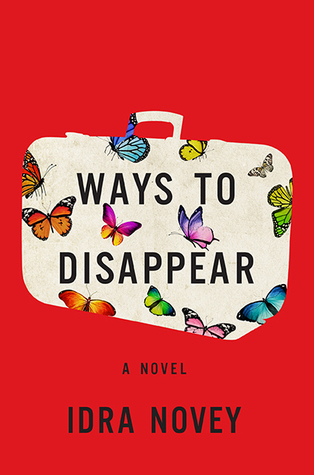 Deep in gambling debt, the celebrated Brazilian writer Beatriz Yagoda is last seen holding a suitcase and a cigar and climbing into an almond tree. She abruptly vanishes.

In snowy Pittsburgh, her American translator Emma hears the news and, against the wishes of her boyfriend and Beatriz's two grown children, flies immediately to Brazil. There, in the sticky, sugary heat of Rio, Emma and her author's children conspire to solve the mystery of Yagoda's curious disappearance and staunch the colorful demands of her various outstanding affairs: the rapacious loan shark with a zeal for severing body parts, and the washed-up and disillusioned editor who launched Yagoda's career years earlier.
What are your Friday Finds for this week? Have you read any of mine? Do let me know in the comments! 🙂