Friday Finds is originally featured at Should Be Reading and showcases the books I have discovered during the week and added to my Goodreads TBR. In the week of January 1st-8th, I've discovered the following books and added them to my Goodreads TBR:
Mystery
"The Geographer's Library" by Jon Fasman
Jon Fasman has taken a big chance with The Geographer's Library, his debut novel, setting out a complicated scenario in which a collection of priceless objects is stolen from the titular library and, eventually, scattered and re-collected a thousand years later–with very bad results for the final collector. The geographer is a real person, Al-Idrisi, a Spanish-Muslim philosopher, cartographer, linguist, and scholar who served in the court of King Roger of Sicily in Palermo in the year 1154. For the most part, Fasman's risk pays off, although there is a lot of meandering before we finally get to the final revelation.

The "wraparound" story is about a young journalist, Paul Tomm, who sets out to write a simple obituary about a professor who died in his office at Paul's Alma Mater. The man is Jaan Puhapaev, an Estonian perhaps, who is a terrible teacher, fires his gun out his office window twice, is odd, unavailable, and reclusive and yet is allowed to stay on for unknown reasons. He also collects only $1.00 a year in salary and has no other visible means of support. The core narrative is a description of the provenance and travels of each of the 15 objects–some or all of which may hold the secret of eternal life–stolen from Al-Idrisi.
"The Lightkeepers" by Abby Geni
In The Lightkeepers, we follow Miranda, a nature photographer who travels to the Farallon Islands, an exotic and dangerous archipelago off the coast of California, for a one-year residency capturing the landscape. Her only companions are the scientists studying there, odd and quirky refugees from the mainland living in rustic conditions; they document the fish populations around the island, the bold trio of sharks called the Sisters that hunt the surrounding waters, and the overwhelming bird population who, at times, create the need to wear hard hats as protection from their attacks.

Shortly after her arrival, Miranda is assaulted by one of the inhabitants of the islands. A few days later, her assailant is found dead, perhaps the result of an accident. As the novel unfolds, Miranda gives witness to the natural wonders of this special place as she grapples with what has happened to her and deepens her connection (and her suspicions) to her companions, while falling under the thrall of the legends of the place nicknamed "the Islands of the Dead." And when more violence occurs, each member of this strange community falls under suspicion.
Contemporary
"Dietland" by Sarai Walker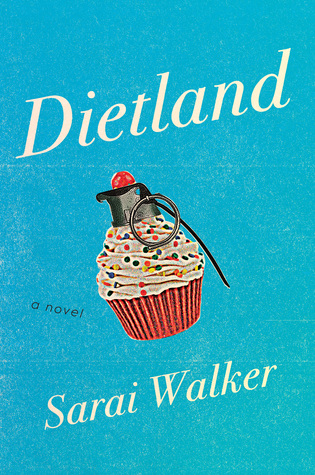 Plum Kettle does her best not to be noticed, because when you're fat, to be noticed is to be judged. Or mocked. Or worse. With her job answering fan mail for a popular teen girls' magazine, she is biding her time until her weight-loss surgery. Only then can her true life as a thin person finally begin.

Then, when a mysterious woman starts following her, Plum finds herself falling down a rabbit hole and into an underground community of women who live life on their own terms. There Plum agrees to a series of challenges that force her to deal with her past, her doubts, and the real costs of becoming "beautiful." At the same time, a dangerous guerrilla group called "Jennifer" begins to terrorize a world that mistreats women, and as Plum grapples with her personal struggles, she becomes entangled in a sinister plot. The consequences are explosive.
"Re Jane" by Patricia Park
For Jane Re, half-Korean, half-American orphan, Flushing, Queens, is the place she's been trying to escape from her whole life. Sardonic yet vulnerable, Jane toils, unappreciated, in her strict uncle's grocery store and politely observes the traditional principle of nunchi (a combination of good manners, hierarchy, and obligation). Desperate for a new life, she's thrilled to become the au pair for the Mazer-Farleys, two Brooklyn English professors and their adopted Chinese daughter. Inducted into the world of organic food co-ops, and nineteenth–century novels, Jane is the recipient of Beth Mazer's feminist lectures and Ed Farley's very male attention. But when a family death interrupts Jane and Ed's blossoming affair, she flies off to Seoul, leaving New York far behind.

Reconnecting with family, and struggling to learn the ways of modern-day Korea, Jane begins to wonder if Ed Farley is really the man for her. Jane returns to Queens, where she must find a balance between two cultures and accept who she really is.
"A Love for the Pages" by Joy Penny
Kiss. Marry. Kill. Nineteen-year-old June Eyermann has always known exactly which of her favorite Byronic heroes goes where. She'd kiss moody and possessive Rochester from Jane Eyre and marry prideful but repentant Darcy from Pride and Prejudice, leaving obsessive and spiteful Heathcliff from Wuthering Heights to be chucked off a cliff—but no. She couldn't leave any of her heroes behind. She lives for her favorite fictional worlds.

But June is about to get a serious wake up call when she returns home for the summer after her college freshman year. Stuck somewhere between feeling like a kid again under her parents' roof and being forced to start acting like an adult with worries about her future career, June looks at the library volunteer position offered to her as a way to keep her sanity for the next few months before she can go back to school.

What June doesn't expect to find at the library is her favorite romantic heroes brought to life—all in the same man. Obstinate, prideful and even a bit rude, Everett Rockford shouldn't exactly be "dating material," even if June's heart rate accelerates whenever she's near him. But after discovering his enigmatic past and witnessing a few fiery moments of tenderness, June can't help but see Rochester, Darcy and even Heathcliff in Everett. If she's going to make it through the summer without becoming a tragic heroine in her own story, she has to separate the man from the ideals of fiction in her head. Because if there's one thing she knows about Byronic love stories, it's that they don't always end happily ever after.
"Good on Paper" by Rachel Cantor
Is a new life possible? Because Shira Greene's life hasn't quite turned out as planned. She's a single mom living with her daughter and her gay friend, Ahmad. Her PhD on Dante's Vita Nuova hasn't gotten her a job, and her career as a translator hasn't exactly taken off either.

But then she gets a call from a Nobel Prize-winning Italian poet who insists she's the only one who can translate his newest book.

Stunned, Shira realizes that—just like that— her life can change. She sees a new beginning beckoning: academic glory, demand for her translations, and even love (her good luck has made her feel more open to the entreaties of a neighborhood indie bookstore owner).

There's only one problem: It all hinges on the translation, and as Shira starts working on the exquisitely intricate passages of the poet's book, she realizes that it may in fact be, well … impossible to translate.
"Written in the Stars" by Aisha Saeed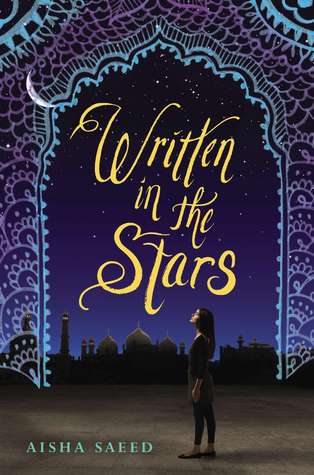 Naila's conservative immigrant parents have always said the same thing: She may choose what to study, how to wear her hair, and what to be when she grows up—but they will choose her husband. Following their cultural tradition, they will plan an arranged marriage for her. And until then, dating—even friendship with a boy—is forbidden. When Naila breaks their rule by falling in love with Saif, her parents are livid. Convinced she has forgotten who she truly is, they travel to Pakistan to visit relatives and explore their roots. But Naila's vacation turns into a nightmare when she learns that plans have changed—her parents have found her a husband and they want her to marry him, now! Despite her greatest efforts, Naila is aghast to find herself cut off from everything and everyone she once knew. Her only hope of escape is Saif . . . if he can find her before it's too late.
"Firsts" by Laurie Elizabeth Flynn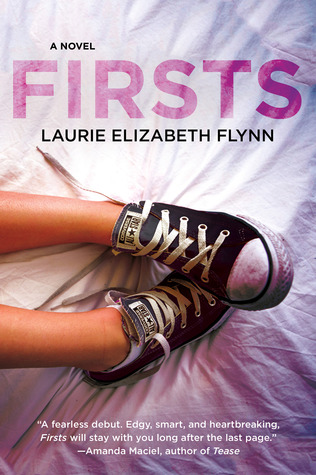 Seventeen-year-old Mercedes Ayres has an open-door policy when it comes to her bedroom, but only if the guy fulfills a specific criteria: he has to be a virgin. Mercedes lets the boys get their awkward, fumbling first times over with, and all she asks in return is that they give their girlfriends the perfect first time- the kind Mercedes never had herself.

Keeping what goes on in her bedroom a secret has been easy- so far. Her absentee mother isn't home nearly enough to know about Mercedes' extracurricular activities, and her uber-religious best friend, Angela, won't even say the word "sex" until she gets married. But Mercedes doesn't bank on Angela's boyfriend finding out about her services and wanting a turn- or on Zach, who likes her for who she is instead of what she can do in bed.
"Tell Me Three Things" by Julie Buxbaum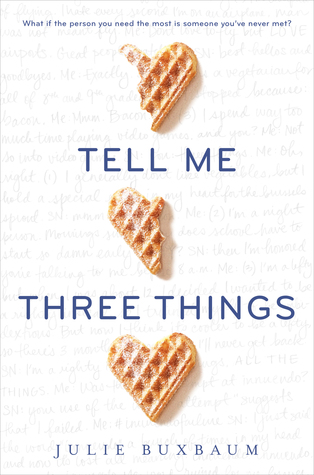 Everything about Jessie is wrong. At least, that's what it feels like during her first week of junior year at her new ultra-intimidating prep school in Los Angeles. Just when she's thinking about hightailing it back to Chicago, she gets an email from a person calling themselves Somebody/Nobody (SN for short), offering to help her navigate the wilds of Wood Valley High School. Is it an elaborate hoax? Or can she rely on SN for some much-needed help?

It's been barely two years since her mother's death, and because her father eloped with a woman he met online, Jessie has been forced to move across the country to live with her stepmonster and her pretentious teenage son.

In a leap of faith—or an act of complete desperation—Jessie begins to rely on SN, and SN quickly becomes her lifeline and closest ally. Jessie can't help wanting to meet SN in person. But are some mysteries better left unsolved?
Historical Fiction
"Oscar Wilde and a Death of No Importance" by Gyles Brandreth
One of Britain's premier royal biographers pens the first in a series of fiendishly clever and stylish historical murder mysteriesLovers of historical mystery will relish this chilling Victorian tale based on real events and cloaked in authenticity. Best of all, it casts British literature's most fascinating and controversial figure as the lead sleuth.

A young artist's model has been murdered, and legendary wit Oscar Wilde enlists his friends Arthur Conan Doyle and Robert Sherard to help him investigate. But when they arrive at the scene of the crime they find no sign of the gruesome killing — save one small spatter of blood, high on the wall. Set in London, Paris, Oxford, and Edinburgh at the height of Queen Victoria's reign, here is a gripping eyewitness account of Wilde's secret involvement in the curious case of Billy Wood, a young man whose brutal murder served as the inspiration for "The Picture of Dorian Gray." Told by Wilde's contemporary — poet Robert Sherard — this novel provides a fascinating and evocative portrait of the great playwright and his own "consulting detective," Sherlock Holmes creator, Arthur Conan Doyle.
"The Expatriates" by Janice Y.K. Lee
Mercy is adrift. A recent Columbia graduate without a safety net, she can't hold down a job—or a man. Hilary, a wealthy housewife, is haunted by her inability to conceive a child she believes could save her floundering marriage. Meanwhile, Margaret, ostensibly a happily married mother of three, questions her maternal identity in the wake of a shattering loss. As each woman struggles with her own demons, their lives crash into one another in ways that could have devastating consequences for them all. Moving, atmospheric, and utterly compelling, The Expatriates confirms Lee as an exceptional talent and one of our keenest observers of women's inner lives.
"A Countess Below Stairs" by Eva Ibbotson
After the Russian revolution turns her world topsy-turvy, Anna, a young Russian Countess, has no choice but to flee to England. Penniless, Anna hides her aristocratic background and takes a job as servant in the household of the esteemed Westerholme family, armed only with an outdated housekeeping manual and sheer determination.

Desperate to keep her past a secret, Anna is nearly overwhelmed by her new duties—not to mention her instant attraction to Rupert, the handsome Earl of Westerholme. To make matters worse, Rupert appears to be falling for her as well. As their attraction grows stronger, Anna finds it more and more difficult to keep her most dearly held secrets from unraveling. And then there's the small matter of Rupert's beautiful and nasty fiancée…
Fantasy
"The Brides of Rollrock Island" by Margo Lanagan
Rollrock island is a lonely rock of gulls and waves, blunt fishermen and their homely wives. Life is hard for the families who must wring a poor living from the stormy seas. But Rollrock is also a place of magic – the scary, salty-real sort of magic that changes lives forever. Down on the windswept beach, where the seals lie in herds, the outcast sea witch Misskaella casts her spells – and brings forth girls from the sea – girls with long, pale limbs and faces of haunting innocence and loveliness – the most enchantingly lovely girls the fishermen of Rollrock have ever seen.

But magic always has its price. A fisherman may have and hold a sea bride, and tell himself that he is her master. But from his first look into those wide, questioning, liquid eyes, he will be just as transformed as she is. He will be equally ensnared. And in the end the witch will always have her payment.
"The Extraordinary and Unusual Adventures of Horatio Lyle" by Catherine Webb
In Victorian London at the height of the industrial revolution, Horatio Lyle is a former volunteer law enforcement officer with a passion for science and invention. He's also an occasional, but reluctant, sleuth. The truth is that he'd rather be in his lab tinkering with dangerous chemicals and odd machinery than running around the cobbled streets of London trying to track down stolen goods. But when his government calls, Horatio swaps his microscope for a magnifying glass, fills his pockets with things that explode, and goes forth to unravel a mystery of a singularly extraordinary nature. Thrown together with a reformed—in other words "caught"—pickpocket named Tess, and a rebellious young gentleman named Thomas, Lyle and his faithful hound, Tate, find themselves pursuing an ancient Chinese plate, a conspiracy that reaches to the highest levels of polite society, and a dangerous enemy who may not even be human. Solving the crime will be hard enough—surviving would be a bonus.
"The Children's Home" by Charles Lambert
In a sprawling estate, willfully secluded, lives Morgan Fletcher, the disfigured heir to a fortune of mysterious origins. Morgan spends his days in quiet study, avoiding his reflection in mirrors and the lake at the end of his garden. One day, two children, Moira and David, appear. Morgan takes them in, giving them free reign of the mansion he shares with his housekeeper Engel. Then more children begin to show up.

Dr. Crane, the town physician and Morgan's lone tether to the outside world, is as taken with the children as Morgan, and begins to spend more time in Morgan's library. But the children behave strangely. They show a prescient understanding of Morgan's past, and their bizarre discoveries in the mansion attics grow increasingly disturbing. Every day the children seem to disappear into the hidden rooms of the estate, and perhaps, into the hidden corners of Morgan's mind.
Urban Fantasy
"The City's Son" by Tom Pollock
Running from her traitorous best friend and her estranged father, graffiti artist Beth Bradley is looking for sanctuary. What she finds is Urchin, the ragged and cocky crown prince of London's mystical underworld. Urchin opens Beth's eyes to the city she's never truly seen-where vast spiders crawl telephone wires seeking voices to steal, railwraiths escape their tethers, and statues conceal an ancient priesthood robed in bronze.

But it all teeters on the brink of destruction. Amid rumors that Urchin's goddess mother will soon return from her 15-year exile, Reach, a malign god of urban decay, wants the young prince dead. Helping Urchin raise an alleyway army to reclaim his skyscraper throne, Beth soon forgets her old life. But when her best friend is captured, Beth must choose between this wondrous existence and the life she left behind.
"Wolfhound Century" by Peter Higgins
Investigator Vissarion Lom has been summoned to the capital in order to catch a terrorist — and ordered to report directly to the head of the secret police.
A totalitarian state, worn down by an endless war, must be seen to crush home-grown insurgents with an iron fist. But Lom discovers Mirgorod to be more corrupted than he imagined: a murky world of secret police and revolutionaries, cabaret clubs and doomed artists.
Lom has been chosen because he is an outsider, not involved in the struggle for power within the party. And because of the sliver of angel stone implanted in his head.
"Dream London" by Tony Ballantyne
In Dream London the city changes a little every night and the people change a little every day. Captain Jim Wedderburn has looks, style and courage by the bucketful. He's adored by women, respected by men and feared by his enemies. He's the man to find out who has twisted London into this strange new world, and he knows it. But the towers are growing taller, the parks have hidden themselves away and the streets form themselves into strange new patterns. There are people sailing in from new lands down the river, new criminals emerging in the East End and a path spiralling down to another world. Everyone is changing, no one is who they seem to be, and Captain Jim Wedderburn is beginning to understand that he's not the man he thought he was…
What are your Friday Finds for this week? Do let me know!