Friday Finds is originally featured at Should Be Reading and showcases the books I have discovered during the week and added to my Goodreads TBR. In the week of November 28th-December 4th I've discovered the following books and added them to my Goodreads TBR:
Ya contemporary
"Tiny Pretty Things" by Sona Charaipotra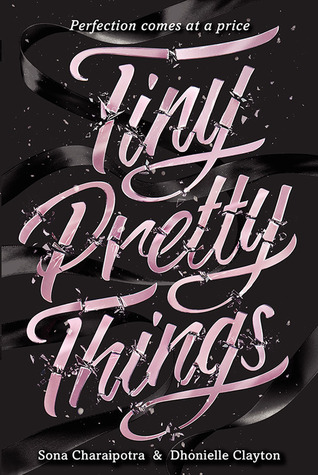 Gigi, Bette, and June, three top students at an exclusive Manhattan ballet school, have seen their fair share of drama. Free-spirited new girl Gigi just wants to dance—but the very act might kill her. Privileged New Yorker Bette's desire to escape the shadow of her ballet star sister brings out a dangerous edge in her. And perfectionist June needs to land a lead role this year or her controlling mother will put an end to her dancing dreams forever. When every dancer is both friend and foe, the girls will sacrifice, manipulate, and backstab to be the best of the best.
"The Visitors" by Simon Sylvester
On the remote, windswept Scottish island Bancree, men are disappearing without a trace, and to two teenaged girls, it looks like the work of the mythical selkies—-women that turn into seals.
Fairytales
"Gretel and the Dark" by Eliza Granville
A dark, distinctive and addictively compelling novel set in fin-de-siècle Vienna and Nazi Germany—with a dizzying final twist.

Vienna, 1899. Josef Breuer—celebrated psychoanalyst—is about to encounter his strangest case yet. Found by the lunatic asylum, thin, head shaved, she claims to have no name, no feelings—to be, in fact, not even human. Intrigued, Breuer determines to fathom the roots of her disturbance.

Years later, in Germany, we meet Krysta. Krysta's Papa is busy working in the infirmary with the 'animal people,' so little Krysta plays alone, lost in the stories of Hansel and Gretel, the Pied Piper, and more. And when everything changes and the world around her becomes as frightening as any fairy tale, Krysta finds her imagination holds powers beyond what she could have ever guessed. . .
"Beast" by Lisa Jensen
ALIAS HOOK author Lisa Jensen's BEAST: A LOVE STORY, A literary retelling of the Beauty and the Beast story, in which the beast much choose between a beautiful human form with a monstrous heart, or a monstrous exterior with a human heart
What are your Friday Finds for this week? Any more Captain Hook fans excited for "Beast"? Do let me know!