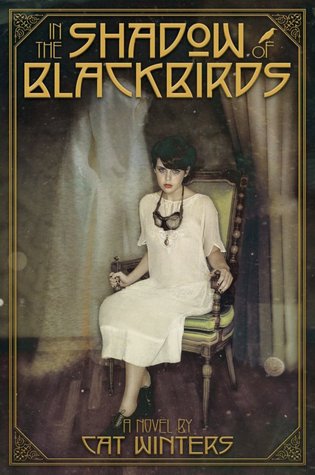 Would you be surprised if I said that I bought another Cat Winters' novel only a few days after finishing "The Cure for Dreaming"? If you're anything like me, I doubt it.
It's 1918 and the US is facing one of the hardest times in its history. The country is on the brink of collapse from the Spanish Influenza and the First World War. Sixteen-year-old Mary Shelley Black is one of the lucky few who hasn't been infected. However, her pacifist father is labelled a traitor and taken away. Mary Shelley is forced to go to Oregon to live with her favourite aunt Eva and wait until either they both die or something good occurs. Unfortunately, Mary Shelley's childhood friend and sweetheart Stephen Embers who is just as fond of science and photography as herself, has enlisted and left for Europe, leaving Mary Shelley and aunt Eva with his half-brother Julian, who is addicted to opium and is either trying to defraud people by capitalising on the new spirit photographs craze or genuinely believes that he can connect his clients with their departed loved ones via the power of a camera.
One night, Mary Shelley is struck by lightning, but miraclously comes back from the dead. A few nights later, the Embers' receive devastating news about Stephen, and strange things begin to happen around our heroine. Why is she the only one who can hear her dead friend's distress? Why does he visit her at nighttime and why does he look so afraid? And what is so terrifying about the shadows of blackbirds?
"In the Shadow of Blackbirds" is Cat Winters' debut novel that I picked up after being enchanted by "The Cure for Dreaming". I'm pleased to report that this book is just as hauntingly beautiful and captivating as Winters' sophomore novel. You can tell that the author genuinely loves writing about the time period and is thorough. I've read the book on an electronic device, but I would love a physical copy – the black-and-white "spirit" photographs make the story even more layered. Not that it needs it – Winters' writing is very good at submerging the reader into the tragic atmosphere of the 20th century war- and disease-torn America. I absolutely loved how the author has entwined the plot of the story with the real historical events without shying away from the difficult topics like loss, war and PTSD. I don't know much about the latter, but I've experienced many books where the writers gloss over mental illnesses or even glamourise them. "In the Shadow of Blackbirds" does the opposite, which makes the storyline even more haunting and tragic.
Since photography is a very important plot device in this book, I'll use the analogy of the kind. As an amateur photographer, I know that a truly good photo can't be just "pretty" or "shot from a good angle" – some might give you some leeway one way or the other, but it generally should be both. "In the Shadow of Blackbirds" is a novel that is both – atmospheric and beautiful writing might not always be enough to make a good book amazing, and thankfully, the storyline and the characters are also very strong points. Mary Shelley, Aunt Eva, Stephen, Julian and other secondary characters feel real (which is saying a lot, since some of them are.. well.. somewhat dead!), and the story has kept me engaged until I turned the last page of the book. I genuinely didn't see the ending coming and the novel has been (excuse my pun) haunting me for the last week.
I'm really glad I chose to read "In the Shadow of Blackbirds" over a weekend, because I spent hours with my eyes glued to my screen, immersed in the story. And unlike "The Cure for Dreaming", I didn't feel that the book warranted a sequel – it was just the right length! I cannot wait to read Winters' retelling of "Hamlet"! My rating for "In the Shadow of Blackbirds" is 8.5/10.
Favourite quotes
"When faced with the worst horrors the world has to offer, a person either cracks and succumbs to the ugliness, or they salvage the inner core of who they are and fight to right wrongs".
"We wouldn't even have wars if adults followed the rules they learned as children. A four-year-old would be able to see how foolish grown men are behaving if you explained the war in a child's terms".
"We were all survivors – every last one of us who limped our way out to the sidewalks that afternoon and spit in Death's cold face".
Recommendations
You might like "In the Shadow of Blackbirds" if you liked:
"The Book Thief" by Markus Zusak
"17 & Gone" by Nova Ren Suma
"Frankenstein" by Mary Shelley