Sorry it's been a while! This post is listing all the books I've added to my TBR since the last time I did a Friday Finds post.
Friday Finds is originally featured at Should Be Reading and showcases the books I have discovered and added to my Goodreads TBR. Since my last post, I've discovered the following books and they're now proudly sitting in my never-ending Goodreads TBR pile:
Historical Fiction
"City on Fire" by Garth Risk Hallberg
The all-too-human individuals who live within this extraordinary first novel are: Regan and William Hamilton-Sweeney, estranged heirs to one of the city's biggest fortunes; Keith and Mercer, the men who, for better or worse, love them; Charlie and Sam, two Long Island teenagers seduced by downtown's nascent punk scene; an obsessive magazine reporter; his spunky, West Coast-transplant neighbor; and the detective trying to figure out what they all have to do with a shooting in Central Park.

From post-Vietnam youth culture to the fiscal crisis, from a lushly appointed townhouse on Sutton Place to a derelict squat on East 3rd Street, this city on fire is at once recognizable and completely unexpected. And when the infamous blackout of July 13th, 1977 plunges it into darkness, each of these entangled lives will be changed, irrevocably
"Salt to the Sea" by Ruta Sepetys
Mystery
"In a Dark, Dark Wood" by Ruth Ware
Someone's getting married. Someone's getting murdered.

In a dark, dark wood

Nora hasn't seen Clare for ten years. Not since Nora walked out of school one day and never went back.

There was a dark, dark house

Until, out of the blue, an invitation to Clare's hen do arrives. Is this a chance for Nora to finally put her past behind her?

And in the dark, dark house there was a dark, dark room

But something goes wrong. Very wrong.

And in the dark, dark room….

Some things can't stay secret for ever
"Mind of Winter" by Laura Kasischke
On a snowy Christmas morning, Holly Judge awakens, the fragments of a nightmare—something so important that she must write it down—floating on the edge of her consciousness.

Something had followed them from Russia!

It was thirteen years ago that she and her husband, Eric, went to Siberia to adopt the sweet, dark-haired child they had wanted so desperately. How they laughed at the nurses of Pokrovka Orphanage #2 with their garlic and superstitions, and ignored their insistent warnings. After all, their fairy princess Tatiana—Baby Tatty—was perfect.

As the snow falls, enveloping the world in its white silence, Holly senses that something is not right, and has never been right in the years since they brought their daughter home. Now Tatty is a dangerously beautiful, petulant, and often erratic teenager, and Holly feels there is something evil lurking within their house.

She and Tatiana are alone. Eric is stuck on the roads, and none of the other guests for Christmas dinner will be able to make it through the snow. With each passing hour, the blizzard rages and Tatiana's mood darkens, her behavior becoming increasingly disturbing… until, in every mother's worst nightmare, Holly finds she no longer recognizes her daughter.
"17 and Gone" by Nova Ren Suma
Seventeen-year-old Lauren is having visions of girls who have gone missing. And all these girls have just one thing in common—they are 17 and gone without a trace. As Lauren struggles to shake these waking nightmares, impossible questions demand urgent answers: Why are the girls speaking to Lauren? How can she help them? And… is she next? As Lauren searches for clues, everything begins to unravel, and when a brush with death lands her in the hospital, a shocking truth emerges, changing everything.

With complexity and richness, Nova Ren Suma serves up a beautiful, visual, fresh interpretation of what it means to be lost.
"The Vanishing of Katharina Linden" by Helen Grant
It isn't ten-year-old Pia's fault that her grandmother dies in a freak accident. But tell that to the citizens of Pia's little German hometown of Bad Münstereifel, or to the classmates who shun her. The only one who still wants to be her friend is StinkStefan, the most unpopular child in school.

But then something else captures the community's attention: the vanishing of Katharina Linden. Katharina was last seen on a float in a parade, dressed as Snow White. Then, like a character in a Grimm's fairy tale, she disappears. But, this being real life, she doesn't return.

Pia and Stefan suspect that Katharina has been spirited away by the supernatural. Their investigation is inspired by the instructive—and cautionary—local legends told to them by their elderly friend Herr Schiller, tales such as that of Unshockable Hans, visited by witches in the form of cats, or of the knight whose son is doomed to hunt forever.

Then another girl disappears, and Pia is plunged into a new and unnerving place, one far away from fairy tales—and perilously close to adulthood.
"Slade House" by David Mitchell
Down the road from a working-class British pub, along the brick wall of a narrow alley, if the conditions are exactly right, you'll find the entrance to Slade House. A stranger will greet you by name and invite you inside. At first, you won't want to leave. Later, you'll find that you can't. Every nine years, the house's residents—an odd brother and sister—extend a unique invitation to someone who's different or lonely: a precocious teenager, a recently divorced policeman, a shy college student. But what really goes on inside Slade House? For those who find out, it's already too late. . . .

Spanning five decades, from the last days of the 1970s to the present, leaping genres, and barreling toward an astonishing conclusion, this intricately woven novel will pull you into a reality-warping new vision of the haunted house story—as only David Mitchell could imagine it
Romance
"A Knights Bridge Christmas" by Carla Neggers
Clare Morgan is ready for a fresh start when she moves to the small Massachusetts town of Knights Bridge with her young son, Owen. Widowed for six years, Clare settles into her job as the town's new librarian. She appreciates the warm welcome she and Owen receive and truly enjoys getting the library ready for its role in the annual holiday open house.

Clare expects to take it slow with her new life. Then she meets Logan Farrell, a Boston ER doctor in town to help his elderly grandmother settle into assisted living. Slow isn't a word Logan seems to understand. Accustomed to his fast-paced city life, he doesn't plan to stay in Knights Bridge for long. But Daisy Farrell has other ideas and enlists her grandson to decorate her house on the village green one last time. Logan looks to Clare for help. She can go through Daisy's book collection and help him decorate while she's at it.

As Clare and Logan get his grandmother's house ready for the holidays, what neither of them expects to find is an attraction to each other. Better than most, they know all the crazy things that can happen in life, but everything about Knights Bridge and this magical season invites them to open themselves to new possibilities…and new love.
In 1945, World War II is drawing to a close in East Prussia, and thousands of refugees are on a desperate trek toward freedom, almost all of them with something to hide. Among them are Joana, Emilia, and Florian, whose paths converge en route to the ship that promises salvation, the Wilhelm Gustloff. Forced by circumstance to unite, the three find their strength, courage, and trust in each other tested with each step closer toward safety.

Just when it seems freedom is within their grasp, tragedy strikes. Not country, nor culture, nor status matter as all ten thousand people aboard must fight for the same thing: survival.
"November 9" by Colleen Hoover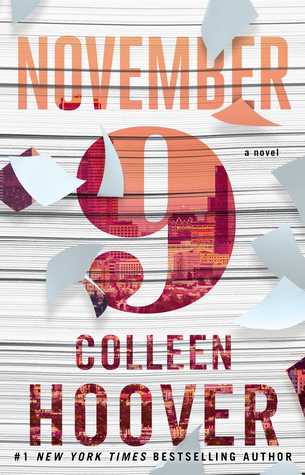 Fallon meets Ben, an aspiring novelist, the day before her scheduled cross-country move. Their untimely attraction leads them to spend Fallon's last day in L.A. together, and her eventful life becomes the creative inspiration Ben has always sought for his novel. Over time and amidst the various relationships and tribulations of their own separate lives, they continue to meet on the same date every year. Until one day Fallon becomes unsure if Ben has been telling her the truth or fabricating a perfect reality for the sake of the ultimate plot twist.
What are your Friday Finds for this week? Have you read any of mine? Do let me know! I miss you all 🙂