Friday Finds is originally featured at Should Be Reading and showcases the books I have discovered during the week and added to my Goodreads TBR. In the week of September 26th-October 2nd, I've discovered the following books and added them to my Goodreads TBR:
Contemporary
"The Unfortunate Decisions of Dahlia Moss" by Max Wirestone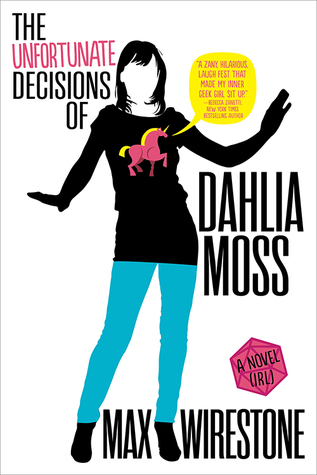 The odds of Dahlia successfully navigating adulthood are 3,720 to 1. But never tell her the odds.

Meet Dahlia Moss, the reigning queen of unfortunate decision-making in the St. Louis area. Unemployed broke, and on her last bowl of ramen, she's not living her best life. But that's all about to change.

Before Dahlia can make her life any messier on her own she's offered a job. A job that she's woefully under-qualified for. A job that will lead her to a murder, an MMORPG, and possibly a fella (or two?).

Turns out unfortunate decisions abound, and she's just the girl to deal with them.
"Bruised" by Sarah Skilton
Imogen has always believed that her black belt in Tae Kwon Do made her stronger than everyone else–more responsible, more capable. But when she witnesses a holdup in a diner, she freezes. The gunman is shot and killed by the police. And it's all her fault.

Now she's got to rebuild her life without the talent that made her special and the beliefs that made her strong. If only she could prove herself in a fight–a real fight–she might be able to let go of the guilt and shock. She's drawn to Ricky, another witness to the holdup, both romantically and because she believes he might be able to give her the fight she's been waiting for.

But when it comes down to it, a fight won't answer Imogen's big questions: What does it really mean to be stronger than other people? Is there such a thing as a fair fight? And can someone who's beaten and bruised fall in love?
Historical Fiction
"The Meaning of Night" by Michael Cox
Edward Glyver has a confession to make: He's responsible for an unsolved, entirely random murder in Victorian London. But there are untold confessions to come, starting with the fact that Glyver is not his real name, and that his true identity, as heir to one of England's wealthiest and most influential peerages, is slowly being usurped by his childhood archrival, Phoebus Daunt.

Unwilling to accept the middle-class fate chosen for him by his mother, Edward plumbs the truth of his heritage. Deftly navigating the murky confines of London in his quest to find his mark — an unscrupulous con man who has charmed Edward's father into making him heir to the estate — Edward succumbs to a vice that has precipitated the downfall of many before him: revenge.
"A Small Death in Lisbon" by Robert Wilson
In A Small Death in Lisbon, the narrative switches back and forth between 1941 and 1999, and Wilson's wide knowledge of history and keen sense of place make the eras equally vibrant. In 1941 Germany, Klaus Felsen, an industrialist, is approached by the SS high command in a none-too-friendly manner and is "persuaded" to go to Lisbon and oversee the sale–or smuggling–of wolfram (also known as tungsten, used in the manufacture of tanks and airplanes). World War II Portugal is neutral where business is concerned, and too much of the precious metal is being sold to Britain when Germany needs it to insure that Hitler's blitzkrieg is successful.

Cut to 1999 Lisbon, where the daughter of a prominent lawyer has been found dead on a beach. Ze Coelho, a liberal police inspector who is a widower with a daughter of his own, must sift through the life of Catarina Oliveira and discover why she was so brutally murdered. Her father is enigmatic, her mother suicidal; her friends were rock musicians and drug addicts.
What are your Friday Finds for this week? Have you read any on my list? Please let me know! 🙂