The good news is I have a job! A proper 9-6 office job where I actually get to use my law degree!
The not so good news is that apparently having a grown-up job leaves little time for things like blogging. So apologies for missing the last Friday Finds!
Friday Finds is originally featured at Should Be Reading and showcases the books I have discovered during the week and added to my Goodreads TBR. In the weeks of August 15th-August 21st I've discovered the following books and added them to my Goodreads TBR:
Contemporary mystery
"See Jane Run" by Joy Fielding
Jane Whittaker has awakened to a nightmare. She doesn't know her name, her age…or even what she looks like. Frightened and confused, she wanders the streets of Boston wearing a blood-soaked dress-and carrying $10,000 in her pocket. Her life has become a vacuum–her past vanished…or stolen. And all that remains is a handsome, unsettling stranger who claims to be her husband, whispered rumors about a dead child whom she cannot recall…and a terrifying premonition that something truly horrible is about to occur.
"Books, Blogs & Reality" by Ryan Ringbloom
When reality becomes overwhelming, seeking comfort in fictional fantasies keeps hope alive. And while this escape may be a little delusional, it's also therapeutic.

Sharing secrets is daunting, but virtual friends don't often judge and they are always ready to share a glass of wine…or three…while typing out life's latest endeavors.

Brooke believes obstacles only add to romance, not detract. Rachael longs for a more intense relationship, or so she thinks. Lizzie misses the excitement in her life, but sometimes new situations find you when you're not even looking. And Jess believes a tiger can change his stripes. It can't.

Bound by a shared passion for blogging about happily ever afters, these four young women use keyboard therapy to work through their expectations, anxieties, and inadequacies, all with the hopes of achieving the perfection found in romance novels.

Completely blinded by what they think life should be, they navigate their unique paths in search of what they envision is right. But when reality taunts them with persistent curve balls, will they be strong enough to choose wisely? Or will their happy endings escape them?
"Frozen Heat" (Nikki Heat #4) by Richard Castle
Hot on the heels of Richard Castle's #1 New York Times bestseller Heat Rises comes the fourth novel in the Nikki Heat series, Frozen Heat. Nikki Heat and Jameson Rook are together again, facing an unsolved murder mystery that has haunted Nikki for ten years.

NYPD Homicide Detective Nikki Heat arrives at her latest crime scene to find an unidentified woman stabbed to death and stuffed inside a suitcase left on a Manhattan street. Nikki is in for a big shock when this new homicide connects to the unsolved murder of her own mother. Paired once again with her romantic and investigative partner, top journalist Jameson Rook, Heat works to solve the mystery of the body in the suitcase while she is forced to confront unexplored areas of her mother's background.

Facing relentless danger as someone targets her for the next kill, Nikki's search will unearth painful family truths, expose a startling hidden life, and cause Nikki to reexamine her own past. Heat's passionate quest takes her and Rook from the back alleys of Manhattan to the avenues of Paris, trying to catch a ruthless killer. The question is, now that her mother's cold case has unexpectedly thawed, will Nikki Heat finally be able to solve the dark mystery that has been her demon for ten years?
Historical mystery
"The Watchmaker of Filigree Street" by Natasha Pulley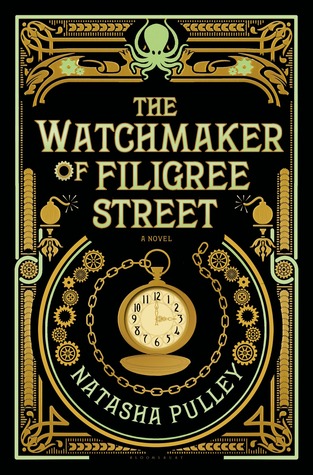 1883. Thaniel Steepleton returns home to his tiny London apartment to find a gold pocket watch on his pillow. Six months later, the mysterious timepiece saves his life, drawing him away from a blast that destroys Scotland Yard. At last, he goes in search of its maker, Keita Mori, a kind, lonely immigrant from Japan. Although Mori seems harmless, a chain of unexplainable events soon suggests he must be hiding something. When Grace Carrow, an Oxford physicist, unwittingly interferes, Thaniel is torn between opposing loyalties.

The Watchmaker of Filigree Street is a sweeping, atmospheric narrative that takes the reader on an unexpected journey through Victorian London, Japan as its civil war crumbles long-standing traditions, and beyond. Blending historical events with dazzling flights of fancy, it opens doors to a strange and magical past.
What are your Friday Finds for this week? Have you read any of mine? Do you like mystery novels? Let me know in the comments! 🙂