Friday Finds is originally featured at Should Be Reading and showcases the books I have discovered during the week and added to my Goodreads TBR. In the week of August 8th-14th, I've discovered the following books and added them to my Goodreads TBR:
Literary Fiction
"The Elegance of the Hedgehog" by Muriel Barbery
We are in the center of Paris, in an elegant apartment building inhabited by bourgeois families. Renée, the concierge, is witness to the lavish but vacuous lives of her numerous employers. Outwardly she conforms to every stereotype of the concierge: fat, cantankerous, addicted to television. Yet, unbeknownst to her employers, Renée is a cultured autodidact who adores art, philosophy, music, and Japanese culture. With humor and intelligence she scrutinizes the lives of the building's tenants, who for their part are barely aware of her existence.
Then there's Paloma, a twelve-year-old genius. She is the daughter of a tedious parliamentarian, a talented and startlingly lucid child who has decided to end her life on the sixteenth of June, her thirteenth birthday. Until then she will continue behaving as everyone expects her to behave: a mediocre pre-teen high on adolescent subculture, a good but not an outstanding student, an obedient if obstinate daughter.

Paloma and Renée hide both their true talents and their finest qualities from a world they suspect cannot or will not appreciate them. They discover their kindred souls when a wealthy Japanese man named Ozu arrives in the building. Only he is able to gain Paloma's trust and to see through Renée's timeworn disguise to the secret that haunts her. This is a moving, funny, triumphant novel that exalts the quiet victories of the inconspicuous among us.
"Euphoria" by Lily King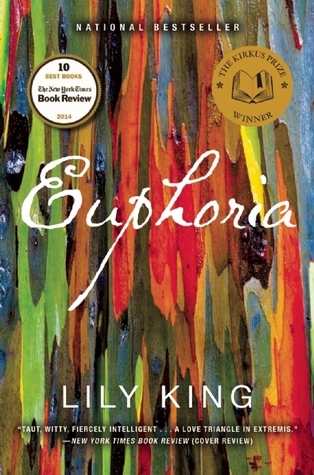 From New England Book Award winner Lily King comes a breathtaking novel about three young anthropologists of the '30s caught in a passionate love triangle that threatens their bonds, their careers, and, ultimately, their lives.

English anthropologist Andrew Bankson has been alone in the field for several years, studying the Kiona river tribe in the Territory of New Guinea. Haunted by the memory of his brothers' deaths and increasingly frustrated and isolated by his research, Bankson is on the verge of suicide when a chance encounter with colleagues, the controversial Nell Stone and her wry and mercurial Australian husband Fen, pulls him back from the brink. Nell and Fen have just fled the bloodthirsty Mumbanyo and, in spite of Nell's poor health, are hungry for a new discovery. When Bankson finds them a new tribe nearby, the artistic, female-dominated Tam, he ignites an intellectual and romantic firestorm between the three of them that burns out of anyone's control.
"The Lake" by Banana Yoshimoto
While The Lake shows off many of the features that have made Banana Yoshimoto famous—a cast of vivid and quirky characters, simple yet nuanced prose, a tight plot with an upbeat pace—it's also one of the most darkly mysterious books she's ever written.
It tells the tale of a young woman who moves to Tokyo after the death of her mother, hoping to get over her grief and start a career as a graphic artist. She finds herself spending too much time staring out her window, though … until she realizes she's gotten used to seeing a young man across the street staring out his window, too.
They eventually embark on a hesitant romance, until she learns that he has been the victim of some form of childhood trauma. Visiting two of his friends who live a monastic life beside a beautiful lake, she begins to piece together a series of clues that lead her to suspect his experience may have had something to do with a bizarre religious cult. . . .
With its echoes of the infamous, real-life Aum Shinrikyo cult (the group that released poison gas in the Tokyo subway system), The Lake unfolds as the most powerful novel Banana Yoshimoto has written. And as the two young lovers overcome their troubled past to discover hope in the beautiful solitude of the lake in the country- side, it's also one of her most moving.
"The Woman Upstairs" by Claire Messud
Nora Eldridge, a 37-year-old elementary school teacher in Cambridge, Massachusetts, is on the verge of disappearing. Having abandoned her desire to be an artist, she has become the "woman upstairs," a reliable friend and tidy neighbour always on the fringe of others' achievements. Then into her classroom walks a new pupil, Reza Shahid, a child who enchants as if from a fairy tale. He and his parents–dashing Skandar, a half-Muslim Professor of Ethical History born in Beirut, and Sirena, an effortlessly glamorous Italian artist–have come to America for Skandar to teach at Harvard.

But one afternoon, Reza is attacked by schoolyard bullies who punch, push and call him a "terrorist," and Nora is quickly drawn deep into the complex world of the Shahid family. Soon she finds herself falling in love with them, separately and together. Nora's happiness explodes her boundaries–until Sirena's own ambition leads to a shattering betrayal.
Contemporary YA
"Faking Normal" by Courtney C. Stevens
Alexi Littrell hasn't told anyone what happened to her over the summer. Ashamed and embarrassed, she hides in her closet and compulsively scratches the back of her neck, trying to make the outside hurt more than the inside does.

When Bodee Lennox, the quiet and awkward boy next door, comes to live with the Littrells, Alexi discovers an unlikely friend in "the Kool-Aid Kid," who has secrets of his own. As they lean on each other for support, Alexi gives him the strength to deal with his past, and Bodee helps her find the courage to finally face the truth.
"None of the Above" by I. W. Gregorio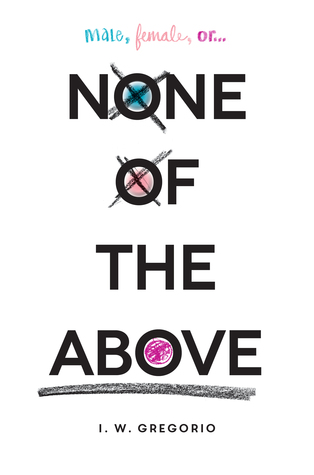 What if everything you knew about yourself changed in an instant?

When Kristin Lattimer is voted homecoming queen, it seems like another piece of her ideal life has fallen into place. She's a champion hurdler with a full scholarship to college and she's madly in love with her boyfriend. In fact, she's decided that she's ready to take things to the next level with him.

But Kristin's first time isn't the perfect moment she's planned—something is very wrong. A visit to the doctor reveals the truth: Kristin is intersex, which means that though she outwardly looks like a girl, she has male chromosomes, not to mention boy "parts."

Dealing with her body is difficult enough, but when her diagnosis is leaked to the whole school, Kristin's entire identity is thrown into question. As her world unravels, can she come to terms with her new self?
"Up to This Pointe" by Jennifer Longo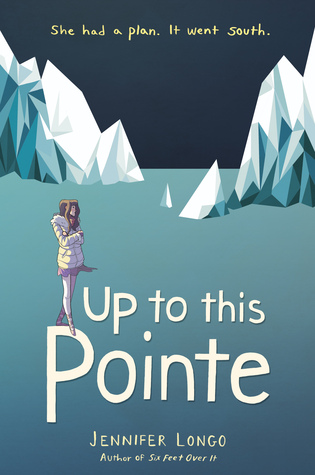 Harper is a dancer. She and her best friend, Kate, have one goal: becoming professional ballerinas. And Harper won't let anything—or anyone—get in the way of The Plan, not even the boy she and Kate are both drawn to.

Harper is a Scott. She's related to Robert Falcon Scott, the explorer who died racing to the South Pole. So when Harper's life takes an unexpected turn, she finagles (read: lies) her way to the icy dark of McMurdo Station . . . in Antarctica. Extreme, but somehow fitting—apparently she has always been in the dark, dancing on ice this whole time. And no one warned her. Not her family, not her best friend, not even the boy who has somehow found a way into her heart.
Mystery
"Dear Daughter" by Elizabeth Little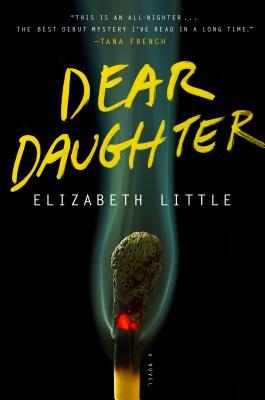 LA IT girl Janie Jenkins has it all. The looks, the brains, the connections. The criminal record.

Ten years ago, in a trial that transfixed America, Janie was convicted of murdering her mother. Now she's been released on a technicality she's determined to unravel the mystery of her mother's last words, words that send her to a tiny town in the very back of beyond. But with the whole of America's media on her tail, convinced she's literally got away with murder, she has to do everything she can to throw her pursuers off the scent.

She knows she really didn't like her mother. Could she have killed her?
"Case Histories" by Kate Atkinson
Case one: A little girl goes missing in the night.

Case two: A beautiful young office worker falls victim to a maniac's apparently random attack.

Case three: A new mother finds herself trapped in a hell of her own making – with a very needy baby and a very demanding husband – until a fit of rage creates a grisly, bloody escape.

Thirty years after the first incident, as private investigator Jackson Brodie begins investigating all three cases, startling connections and discoveries emerge . . .
Science Fiction
"Z for Zachariah" by Robert C. O'Brien
Ann Burden is sixteen years old and completely alone. The world as she once knew it is gone, ravaged by a nuclear war that has taken everyone from her. For the past year, she has lived in a remote valley with no evidence of any other survivors.

But the smoke from a distant campfire shatters Ann's solitude. Someone else is still alive and making his way toward the valley. Who is this man? What does he want? Can he be trusted? Both excited and terrified, Ann soon realizes there may be worse things than being the last person on Earth.
Historical Fantasy
"The Lace Reader" by Brunonia Barry
Look into the lace? When the eyes begin to fill with tears and the patience is long exhausted, there will appear a glimpse of something not quite seen… In this moment, an image will begin to form? in the space between what is real and what is only imagined. Can you read your future in a piece of lace? All of the Whitney women can. But the last time Towner read, it killed her sister and nearly robbed Towner of her own sanity. Vowing never to read lace again, her resolve is tested when faced with the mysterious, unsolvable disappearance of her beloved Great Aunt Eva, Salem's original Lace Reader. Told from opposing and often unreliable perspectives, the story engages the reader's own beliefs. Should we listen to Towner, who may be losing her mind for the second time? Or should we believe John Rafferty, a no nonsense New York detective, who ran away from the city to a simpler place only to find himself inextricably involved in a psychic tug of war with all three generations of Whitney women? Does either have the whole story? Or does the truth lie somewhere in the swirling pattern of the lace?
"Silence for the Dead" by Simone St. James
In 1919, Kitty Weekes, pretty, resourceful, and on the run, falsifies her background to obtain a nursing position at Portis House, a remote hospital for soldiers left shell-shocked by the horrors of the Great War. Hiding the shame of their mental instability in what was once a magnificent private estate, the patients suffer from nervous attacks and tormenting dreams. But something more is going on at Portis House—its plaster is crumbling, its plumbing makes eerie noises, and strange breaths of cold waft through the empty rooms. It's known that the former occupants left abruptly, but where did they go? And why do the patients all seem to share the same nightmare, one so horrific that they dare not speak of it?

Kitty finds a dangerous ally in Jack Yates, an inmate who may be a war hero, a madman… or maybe both. But even as Kitty and Jack create a secret, intimate alliance to uncover the truth, disturbing revelations suggest the presence of powerful spectral forces. And when a medical catastrophe leaves them even more isolated, they must battle the menace on their own, caught in the heart of a mystery that could destroy them both.
"The Gargoyle" by Andrew Davidson
The narrator of The Gargoyle is a very contemporary cynic, physically beautiful and sexually adept, who dwells in the moral vacuum that is modern life. As the book opens, he is driving along a dark road when he is distracted by what seems to be a flight of arrows. He crashes into a ravine and suffers horrible burns over much of his body. As he recovers in a burn ward, undergoing the tortures of the damned, he awaits the day when he can leave the hospital and commit carefully planned suicide — for he is now a monster in appearance as well as in soul.

A beautiful and compelling, but clearly unhinged, sculptress of gargoyles by the name of Marianne Engel appears at the foot of his bed and insists that they were once lovers in medieval Germany. In her telling, he was a badly injured mercenary and she was a nun and scribe in the famed monastery of Engelthal who nursed him back to health. As she spins their tale in Scheherazade fashion and relates equally mesmerizing stories of deathless love in Japan, Iceland, Italy, and England, he finds himself drawn back to life — and, finally, in love. He is released into Marianne's care and takes up residence in her huge stone house. But all is not well. For one thing, the pull of his past sins becomes ever more powerful as the morphine he is prescribed becomes ever more addictive. For another, Marianne receives word from God that she has only twenty-seven sculptures left to complete — and her time on earth will be finished.
Urban Fantasy
"Tell the Wind and Fire" by Sarah Rees Brennan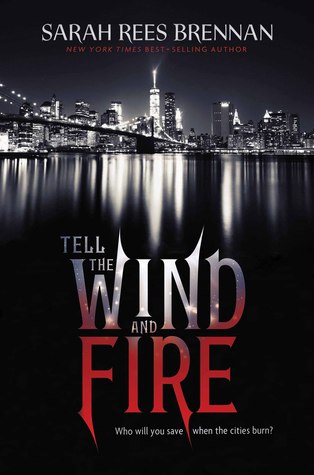 Tell the Wind & Fire is about a young girl called Lucie who lives in a New York very different from the New York we know: the city is torn between two very different kinds of magic, and Lucie's own family was torn apart years ago by that conflict. Lucie wears magic rings and carries a burden of guilt she can't share with anyone.

The light in her life is her sweetheart boyfriend Ethan, but it turns out Ethan has a secret too: a soulless doppelganger created by dark magic, who has to conceal the face identical to Ethan's with a hood fastened by a collar nobody but a Light magician with magical rings can take off… and who introduces himself to both of them by, for reasons nobody can understand, saving Ethan's life…
What are your Friday Finds for this week? Have you read any on my list? Let me know! 🙂