So how many FFs did I miss? Three? Four? Sorry about that! I've been super-swamped with orders (which is a good thing but it leaves little time for blogging)!
Friday Finds is originally featured at Should Be Reading and showcases the books I have discovered during the week and added to my Goodreads TBR. In the weeks of July 18th-August 7th I've discovered the following books and added them to my Goodreads TBR:
Historical Fiction
"Russian Winter" by Daphne Kalotay
Former Bolshoi ballerina Nina Revskaya auctions off her jewelry collection and becomes overwhelmed by memories of her homeland, the friends she left behind amidst Stalinist aggression, and the dark secret that brought her to a new life in Boston.
"The Fair Fight" by Anna Freeman
Born into a brothel, Ruth's future looks bleak until she catches the eye of Mr. Dryer. A rich Bristol merchant and enthusiast of the ring, he trains gutsy Ruth as a puglist. Soon she rules the blood-spattered sawdust at the infamous Hatchet Inn.

Dryer's wife Charlotte lives in the shadows. A grieving orphan, she hides away, scarred by smallpox, ignored by Dryer, and engaged in dangerous mind games with her brother.

When Dryer sidelines Ruth after a disastrous fight, and focuses on training her husband Tom, Charlotte presents Ruth with an extraordinary proposition. As the tension mounts before Tom's Championship fight, two worlds collide with electrifying consequences.

The Fair Fight will take you from a filthy brothel to the finest houses in the town, from the world of street-fighters to the world of champions. Alive with the smells and the sounds of the streets, it is a raucous, intoxicating tale of courage, reinvention and fighting your way to the top.
Urban Fantasy
"Dreams Underfoot" by Charles de Lint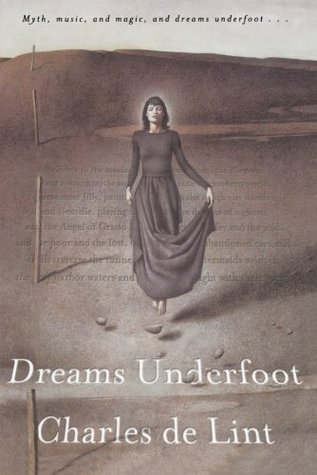 Welcome to Newford. . . .

Welcome to the music clubs, the waterfront, the alleyways where ancient myths and magic spill into the modern world. Come meet Jilly, painting wonders in the rough city streets; and Geordie, playing fiddle while he dreams of a ghost; and the Angel of Grasso Street gathering the fey and the wild and the poor and the lost. Gemmins live in abandoned cars and skells traverse the tunnels below, while mermaids swim in the grey harbor waters and fill the cold night with their song.

Like Mark Helprin's A Winter's Tale and John Crowley's Little, Big, Dreams Underfoot is a must-read book not only for fans of urban fantasy but for all who seek magic in everyday life.
"London Falling" by Paul Cornell
Detective Inspector James Quill is about to complete the drugs bust of his career. Then his prize suspect Rob Toshack is murdered in custody. Furious, Quill pursues the investigation, co-opting intelligence analyst Lisa Ross and undercover cops Costain and Sefton. But nothing about Toshack's murder is normal. Toshack had struck a bargain with a vindictive entity, whose occult powers kept Toshack one step ahead of the law – until his luck ran out.

Now, the team must find a 'suspect' who can bend space and time and alter memory itself. And they will kill again. As the group starts to see London's sinister magic for themselves, they have two choices: panic or use their new abilities. Then they must hunt a terrifying supernatural force the only way they know how: using police methods, equipment and tactics. But they must all learn the rules of this new game – and quickly. More than their lives will depend on it.
"Lady Renegades" (Rebel Belle part 3) by Rachel Hawkins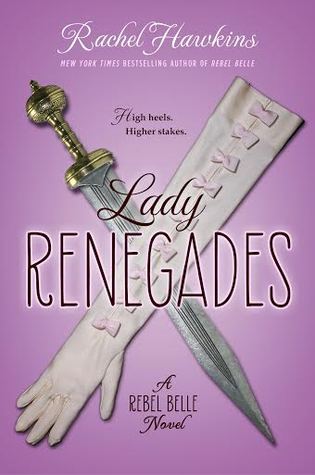 (No description available)
"Cupcakes, Trinkets and Other Deadly Magic" by Meghan Ciana Doidge (thanks BookBub!)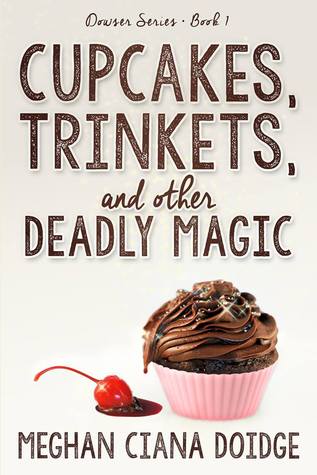 If you'd asked me a week ago, I would have told you that the best cupcakes were dark chocolate with chocolate cream cheese icing, that dancing in a crowd of magic wielders — the Adept — was better than sex, and that my life was peaceful and uneventful. Just the way I liked it.

That's what twenty-three years in the magical backwater of Vancouver will get you — a completely skewed sense of reality. Because when the dead werewolves started showing up, it all unraveled … except for the cupcake part. That's a universal truth.
Mystery
"As Red As Blood" by Salla Simmukka
In the midst of the freezing Arctic winter, seventeen-year-old Lumikki Andersson walks into her school's dark room and finds a stash of wet, crimson-colored money. Thousands of Euros left to dry—splattered with someone's blood.

Lumikki lives alone in a studio apartment far from her parents and the past she left behind. She transferred into a prestigious art school, and she's singularly focused on studying and graduating. Lumikki ignores the cliques, the gossip, and the parties held by the school's most popular and beautiful boys and girls.

But finding the blood-stained money changes everything. Suddenly, Lumikki is swept into a whirlpool of events as she finds herself helping to trace the origins of the money. Events turn even more deadly when evidence points to dirty cops and a notorious drug kingpin best known for the brutality with which he runs his business.

As Lumikki loses control of her carefully constructed world, she discovers that she's been blind to the forces swirling around her—and she's running out of time to set them right. When she sees the stark red of blood on snow, it may be too late to save her friends or herself.
"Assured Destruction" by Michael F. Stewart
Sixteen-year-old Jan Rose knows that nothing is ever truly deleted. At least, not from the hard drives she scours to create the online identities she calls the Shadownet.

Hobby? Art form? Sad, pathetic plea to garner friendship, even virtually? Sure, Jan is guilty on all counts. Maybe she's even addicted to it. It's an exploration. Everyone has something to hide. The Shadownet's hard drives are Jan's secrets. They're stolen from her family's computer recycling business Assured Destruction. If the police found out, Jan's family would lose its livelihood.

When the real people behind Shadownet's hard drives endure vicious cyber attacks, Jan realizes she is responsible. She doesn't know who is targeting these people or why but as her life collapses Jan must use all her tech savvy to bring the perpetrators to justice before she becomes the next victim.
Romance
"The Summer of Chasing Mermaids" by Sarah Ockler
The youngest of six talented sisters, Elyse d'Abreau was destined for stardom—until a boating accident took everything from her. Now, the most beautiful singer in Tobago can't sing. She can't even speak.

Seeking quiet solitude, Elyse accepts a friend's invitation to Atargatis Cove. Named for the mythical first mermaid, the Oregon seaside town is everything Elyse's home in the Caribbean isn't: An ocean too cold for swimming, parties too tame for singing, and people too polite to pry—except for one.

Christian Kane is a notorious playboy—insolent, arrogant, and completely charming. He's also the only person in Atargatis Cove who doesn't treat Elyse like a glass statue. He challenges her to express herself, and he admires the way she treats his younger brother Sebastian, who believes Elyse is the legendary mermaid come to life.

When Christian needs a first mate for the Cove's high-stakes Pirate Regatta, Elyse reluctantly stows her fear of the sea and climbs aboard. The ocean isn't the only thing making waves, though—swept up in Christian's seductive tide and entranced by the Cove's charms, Elyse begins to wonder if a life of solitude isn't what she needs. But changing course again means facing her past. It means finding her inner voice. And scariest of all, it means opening her heart to a boy who's best known for breaking them
"All the Bright Places" by Jennifer Niven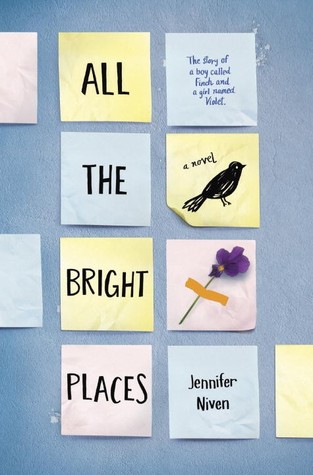 Theodore Finch is fascinated by death, and he constantly thinks of ways he might kill himself. But each time, something good, no matter how small, stops him.

Violet Markey lives for the future, counting the days until graduation, when she can escape her Indiana town and her aching grief in the wake of her sister's recent death.

When Finch and Violet meet on the ledge of the bell tower at school, it's unclear who saves whom. And when they pair up on a project to discover the "natural wonders" of their state, both Finch and Violet make more important discoveries: It's only with Violet that Finch can be himself—a weird, funny, live-out-loud guy who's not such a freak after all. And it's only with Finch that Violet can forget to count away the days and start living them. But as Violet's world grows, Finch's begins to shrink.

This is an intense, gripping novel perfect for fans of Jay Asher, Rainbow Rowell, John Green, Gayle Forman, and Jenny Downham from a talented new voice in YA, Jennifer Niven
Contemporary
"Bookishly Ever After" by Isabel Bandeira
In a perfect world, sixteen-year-old Phoebe Martins' life would be a book. Preferably a YA novel with magic and a hot paranormal love interest. Unfortunately, her life probably wouldn't even qualify for a quiet contemporary. But when Phoebe finds out that Dev, the hottest guy in the clarinet section, might actually have a crush on her, she turns to her favorite books for advice. Phoebe overhauls her personality to become as awesome as her favorite heroines and win Dev's heart. But if her plan fails, can she go back to her happy world of fictional boys after falling for the real thing?
"The Museum of Intangible Things" by Wendy Wunder
Hannah and Zoe haven't had much in their lives, but they've always had each other. So when Zoe tells Hannah she needs to get out of their down-and-out New Jersey town, they pile into Hannah's beat-up old Le Mans and head west, putting everything—their deadbeat parents, their disappointing love lives, their inevitable enrollment at community college—behind them.

As they chase storms and make new friends, Zoe tells Hannah she wants more for her. She wants her to live bigger, dream grander, aim higher. And so Zoe begins teaching Hannah all about life's intangible things, concepts sadly missing from her existence—things like audacity, insouciance, karma, and even happiness.

An unforgettable read from the acclaimed author of The Probability of Miracles, The Museum of Intangible Things sparkles with the humor and heartbreak of true friendship and first love.
"What Was Lost" by Catheryne O'Flynn
The 1980s: Ten-year-old Kate Meaney – with her 'Top Secret' notebook and Mickey her toy monkey – is busy being a junior detective. She observes goings-on and follows 'suspects' at the newly opened Green Oaks shopping centre and in her street, where she is friends with the newsagent's son, Adrian. But when this curious, independent-spirited young girl disappears, Adrian falls under suspicion and is hounded out of his home by the press.

Then, in 2004, Lisa is working as a deputy manager at Your Music, a cut-price record store. Every day, under the watchful eye of the CCTV, she tears her hair out at the behaviour of her customers and colleagues. But when she meets security guard Kurt, she becomes entranced by the little girl he keeps glimpsing on the centre's CCTV. As their after-hours friendship intensifies, they investigate how these sightings might be connected to the unsettling history of Green Oaks.
Phew, what a list! So many books that look amazing and so little time to read them! Now I'd love to hear from my followers – what are your Friday Finds this week? Have you any thoughts about what's on mine? Please let me know!