Friday Finds is originally featured at Should Be Reading and showcases the books I have discovered during the week and added to my Goodreads TBR. In the week of July 11th-17th, I've discovered the following books (images and descriptions are from Goodreads):
Contemporary:
"We Never Asked for Wings" by Vanessa Diffenbaugh
From the beloved New York Times bestselling author of The Language of Flowers comes her much-anticipated new novel about young love, hard choices, and hope against all odds.

For fourteen years, Letty Espinosa has worked three jobs around San Francisco to make ends meet while her mother raised her children—Alex, now fifteen, and Luna, six—in their tiny apartment on a forgotten spit of wetlands near the bay. But now Letty's parents are returning to Mexico, and Letty must step up and become a mother for the first time in her life.

Navigating this new terrain is challenging for Letty, especially as Luna desperately misses her grandparents and Alex, who is falling in love with a classmate, is unwilling to give his mother a chance. Letty comes up with a plan to help the family escape the dangerous neighborhood and heartbreaking injustice that have marked their lives, but one wrong move could jeopardize everything she's worked for and her family's fragile hopes for the future.
Urban fantasy:
"Firelight" by Kristen Callihan
Once the flames are ignited . . .

Miranda Ellis is a woman tormented. Plagued since birth by a strange and powerful gift, she has spent her entire life struggling to control her exceptional abilities. Yet one innocent but irreversible mistake has left her family's fortune decimated and forced her to wed London's most nefarious nobleman.

They will burn for eternity . . .

Lord Benjamin Archer is no ordinary man. Doomed to hide his disfigured face behind masks, Archer knows it's selfish to take Miranda as his bride. Yet he can't help being drawn to the flame-haired beauty whose touch sparks a passion he hasn't felt in a lifetime. When Archer is accused of a series of gruesome murders, he gives in to the beastly nature he has fought so hard to hide from the world. But the curse that haunts him cannot be denied. Now, to save his soul, Miranda will enter a world of dark magic and darker intrigue. For only she can see the man hiding behind the mask.
Thriller:
"Deep Water" by Patricia Highsmith
Vic and Melinda Van Allen's loveless marriage is held together only by a precarious arrangement whereby, in order to avoid the messiness of divorce, Melinda is allowed to take any number of lovers as long as she does not desert her family. Eventually, Vic can no longer suppress his jealousy and tries to win back his wife by asserting himself through a tall tale of murder—one that soon comes true. In this complex portrayal of a dangerous psychosis emerging in the most unlikely of places, Highsmith examines the chilling reality behind the idyllic facade of American suburban life.

"The things that are suspenseful, that I find frightening, aren't someone jumping out of a closet or those kind of big scares, but instead that slow build of dread, and [Highsmith] does that really well. She kind of takes you by the hand and walks you toward the cliff."
"Luckiest Girl Alive" by Jessica Knoll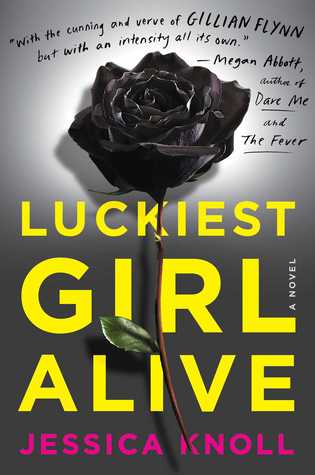 As a teenager at the prestigious Bradley School, Ani FaNelli endured a shocking, public humiliation that left her desperate to reinvent herself. Now, with a glamorous job, expensive wardrobe, and handsome blue blood fiancé, she's this close to living the perfect life she's worked so hard to achieve.

But Ani has a secret.

There's something else buried in her past that still haunts her, something private and painful that threatens to bubble to the surface and destroy everything.

With a singular voice and twists you won't see coming, Luckiest Girl Alive explores the unbearable pressure that so many women feel to "have it all" and introduces a heroine whose sharp edges and cutthroat ambition have been protecting a scandalous truth, and a heart that's bigger than it first appears.

The question remains: will breaking her silence destroy all that she has worked for—or, will it at long last, set Ani free?
What are your Friday Finds for this week? Have you read any of mine? Let me know!