Friday Finds is originally featured at Should Be Reading and showcases the books I have discovered during the week and added to my Goodreads TBR. In the week of July 4th-10th, I've discovered the following books (images and descriptions are from Goodreads):
Fantasy
"Touch" by Natalia Jaster
The myth of Eros isn't the truth. Her story is the truth . . .

Love is an immortal bad girl. With a strike of her arrow and a smirk on her face, she pins human hearts together against their will. It's for their own good, of course—silly, clueless creatures that they are.

But Love has never loved. Not until the Fates parcel her off to a small, frostbitten town littered with needy souls. Not until she crosses paths with Andrew, a boy whose gaze locks onto hers. Yet how can this be? Mortals don't have the power to see deities.

The longer they're friends, the more Love wishes she could touch Andrew. In gentle ways. In other tempting and reckless ways as well.

It's impossible. She isn't a true part of his world. She's an outsider whose fingers will only ever sweep through him. A mischievous, invisible goddess who's destined to be alone. And he's destined for someone else. By order of the Fates, it's Love's duty to betray his trust. To seal his heart while ignoring the gash in her own.

Or she could become human. For there is one very tricky, very dangerous way to do so.

If only Andrew felt the same about her, it might be worth the risk
"The Hawley Book of the Dead" by Chrysler Szarlan
Revelation "Reve" Dyer grew up with her grandmother's family stories, stretching back centuries to Reve's ancestors, who founded the town of Hawley Five Corners, Massachusetts. Their history is steeped in secrets, for few outsiders know that an ancient magic runs in the Dyer women's blood, and that Reve is a magician whose powers are all too real.

Reve and her husband are world-famous Las Vegas illusionists. They have three lovely young daughters, a beautiful home, and what seems like a charmed life. But Reve's world is shattered when an intruder alters her trick pistol and she accidentally shoots and kills her beloved husband onstage.

Fearing for her daughters' lives, Reve flees with them to the place she has always felt safest—an antiquated farmhouse in the forest of Hawley Five Corners, where the magic of her ancestors reigns, and her oldest friend—and first love—is the town's chief of police. Here, in the forest, with its undeniable air of enchantment, Reve hopes she and her girls will be protected.

Delving into the past for answers, Reve is drawn deeper into her family's legends. What she discovers is The Hawley Book of the Dead, an ancient leather-bound journal holding mysterious mythic power. As she pieces together the truth behind the book, Reve will have to shield herself and her daughters against an uncertain, increasingly dangerous fate. For soon it becomes clear that the stranger who upended Reve's life in Las Vegas has followed her to Hawley—and that she has something he desperately wants.
"Huntress" by Malinda Lo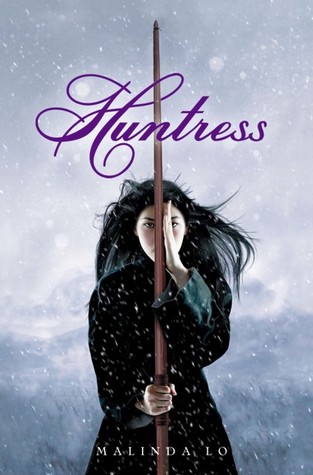 Nature is out of balance in the human world. The sun hasn't shone in years, and crops are failing. Worse yet, strange and hostile creatures have begun to appear. The people's survival hangs in the balance.

To solve the crisis, the oracle stones are cast, and Kaede and Taisin, two seventeen-year-old girls, are picked to go on a dangerous and unheard-of journey to Tanlili, the city of the Fairy Queen. Taisin is a sage, thrumming with magic, and Kaede is of the earth, without a speck of the otherworldly. And yet the two girls' destinies are drawn together during the mission. As members of their party succumb to unearthly attacks and fairy tricks, the two come to rely on each other and even begin to fall in love. But the Kingdom needs only one huntress to save it, and what it takes could tear Kaede and Taisin apart forever.
Romance
"Keeping You a Secret" by Julie Ann Peters
With a steady boyfriend, the position of Student Council President, and a chance to go to an Ivy League college, high school life is just fine for Holland Jaeger. At least it seems to be. But when Cece Goddard comes to school, everything changes. Cece and Holland have undeniable feelings for each other, but how will others react to their developing relationship? This moving love story between two girls is a worthy successor to Nancy Garden's classic young adult coming out novel, Annie on My Mind. With her characteristic humor and breezy style, Peters has captured the compelling emotions of young love.
Contemporary
"Among the Ten Thousand Things" by Julia Pierpoint
Jack Shanley is a well-known New York artist, charming and vain, who doesn't mean to plunge his family into crisis. His wife, Deb, gladly left behind a difficult career as a dancer to raise the two children she adores. In the ensuing years, she has mostly avoided coming face-to-face with the weaknesses of the man she married. But then an anonymously sent package arrives in the mail: a cardboard box containing sheaves of printed emails chronicling Jack's secret life. The package is addressed to Deb, but it's delivered into the wrong hands: her children's.

With this vertiginous opening begins a debut that is by turns funny, wise, and indescribably moving. As the Shanleys spin apart into separate orbits, leaving New York in an attempt to regain their bearings, fifteen-year-old Simon feels the allure of adult freedoms for the first time, while eleven-year-old Kay wanders precariously into a grown-up world she can't possibly understand. Writing with extraordinary precision, humor, and beauty, Julia Pierpont has crafted a timeless, hugely enjoyable novel about the bonds of family life—their brittleness, and their resilience.
Historical fiction
"Ruby Red" by Kerstin Gier
Gwyneth Shepherd's sophisticated, beautiful cousin Charlotte has been prepared her entire life for traveling through time. But unexpectedly, it is Gwyneth, who in the middle of class takes a sudden spin to a different era!

Gwyneth must now unearth the mystery of why her mother would lie about her birth date to ward off suspicion about her ability, brush up on her history, and work with Gideon–the time traveler from a similarly gifted family that passes the gene through its male line, and whose presence becomes, in time, less insufferable and more essential. Together, Gwyneth and Gideon journey through time to discover who, in the 18th century and in contemporary London, they can trust.
"Go Set a Watchman" by Harper Lee
Go Set a Watchman features many of the characters from To Kill a Mockingbird some twenty years later. Returning home to Maycomb to visit her father, Jean Louise Finch—Scout—struggles with issues both personal and political, involving Atticus, society, and the small Alabama town that shaped her.

Exploring how the characters from To Kill a Mockingbird are adjusting to the turbulent events transforming mid-1950s America, Go Set a Watchman casts a fascinating new light on Harper Lee's enduring classic. Moving, funny and compelling, it stands as a magnificent novel in its own right.
What are your Friday Finds for this week? Are you as excited for "Go Set a Watchman" as I am? Let me know in the comments!