Friday Finds is originally featured at Should Be Reading and showcases the books I have discovered during the week and added to my Goodreads TBR. In the week of May 8th-May 15th I've discovered the following books (descriptions and images are from Goodreads):
"The Affinities" by Robert Charles Wilson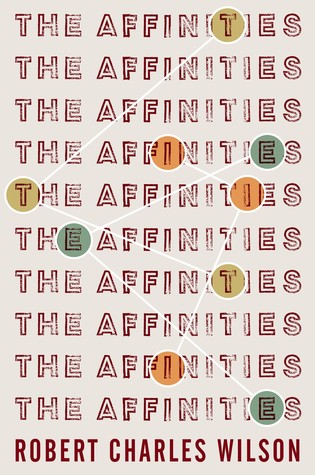 In our rapidly changing world of social media, everyday people are more and more able to sort themselves into social groups based on finer and finer criteria. In the near future of Robert Charles Wilson's The Affinities, this process is supercharged by new analytic technologies: genetic, brain-mapping, behavioral. To join one of the twenty-two Affinities is to change one's life. It's like family, and more than family. Your fellow members aren't just like you, and they aren't just people who are likely to like you. They're also the people with whom you can best cooperate in all areas of life, creative, interpersonal, even financial.

At loose ends both professional and personal, young Adam Fisk takes the suite of tests to see whether he qualifies for any of the Affinities and finds that he's a match for one of the largest, the one called Tau. It's utopian–at first. His problems resolve themselves as he becomes part of a global network of people dedicated to helping one another, to helping him, but as the differing Affinities put their new powers to the test, they begin to rapidly chip away at the power of governments, of global corporations, and of all the institutions of the old world; then, with dreadful inevitability, the different Affinities begin to go to war with one another
"The Lolita Effect" by Meenakshi Gigi Durham
Pop culture—and the advertising that surrounds it—teaches young girls and boys five myths about sex and sexuality:

-Girls don't choose boys; boys choose girls–but only sexy girls.
-There's only one kind of sexy: slender, curvy, white beauty.
-Girls should work to be that type of sexy.
-The younger a girl is, the sexier she is.
-Sexual violence can be hot.

Together, these five myths make up the Lolita Effect, the mass media trends that work to undermine girls' self-confidence, that condone female objectification, and that tacitly foster sex crimes. But identifying these myths and breaking them down can help girls learn to recognize progressive and healthy sexuality and protect themselves from degrading media ideas and sexual vulnerability. In The Lolita Effect, Dr. M. Gigi Durham offers breakthrough strategies for empowering girls to make healthy decisions about their own sexuality.
"Jack of Spades" by Joyce Carol Oates
Andrew J. Rush has achieved the kind of critical and commercial success most authors only dream about: his twenty-eight mystery novels have sold millions of copies in nearly thirty countries, and he has a top agent and publisher in New York. He also has a loving wife, three grown children, and is a well-regarded philanthropist in his small New Jersey town. But Rush is hiding a dark secret. Under the pseudonym "Jack of Spades," he writes another string of novels—dark potboilers that are violent, lurid, even masochistic. These are novels that the refined, upstanding Andrew Rush wouldn't be seen reading, let alone writing. Until one day, his daughter comes across a Jack of Spades novel that he has carelessly left out and begins to ask questions. Meanwhile, Rush receives a court summons in the mail explaining that a local woman has accused him of plagiarizing her own self-published fiction. Rush's reputation, career, and family life all come under threat—and unbidden, in the back of his mind, the Jack of Spades starts thinking ever more evil thoughts.
"The Five People You Meet in Heaven" by Mitch Albom
Eddie is a wounded war veteran, an old man who has lived, in his mind, an uninspired life. His job is fixing rides at a seaside amusement park. On his 83rd birthday, a tragic accident kills him as he tries to save a little girl from a falling cart. He awakes in the afterlife, where he learns that heaven is not a destination, but an answer.

In heaven, five people explain your life to you. Some you knew, others may have been strangers. One by one, from childhood to soldier to old age, Eddie's five people revisit their connections to him on earth, illuminating the mysteries of his "meaningless" life, and revealing the haunting secret behind the eternal question: "Why was I here?"
What are your Friday Finds this week? Have you read any of mine? Let me know in the comments!